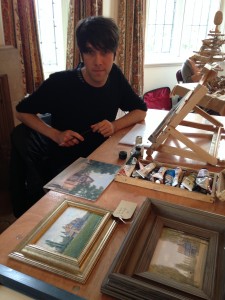 I am a self-taught landscape painter who began painting in 2008. I paint pictures of places and areas I have a deep attachment to and painting is for me the best way to express my feelings for these places.
My first five years (2008 – 2013) were focused exclusively on landscape, taking my inspiration from the mid-Wirral countryside predominantly around my home base on the edge of the Arrowe plantation. The country park and surrounding farmland were the perfect playground, with views across the Irish Sea and Liverpool Bay.
I saw this as an apprenticeship period and kept most of my work to myself whilst I travelled on bike and on foot to all parts of the peninsular in all weathers painting exclusively from nature in small canvas pads.
By and large up to now I have produced a traditional style of objective representation, combined with the use of traditional oil painting practices to attempt a sense of lyrical depth and romanticism. I enjoy the craft of my art, patient creation, close observation and subtlety.
I look for scenes that might otherwise go unnoticed and may not have been captured before. I am drawn to the ephemeral and trying to capture that brief moment in time to convey something of the 'ordinary'. All the paintings are first sketched in the open air before being refined later. A knowledge and feel for the history of the landscape is important to me.
The challenge of balancing the chiaroscuro, patterns of light and shade, and creating a realistic depiction of depth and form are the most enjoyable parts of the painting process.
—————————————————-
My first exhibited work won first prize at the Irby Artists Association Annual Exhibition in 2011. Later I had works displayed at the View Two Gallery in Liverpool, and the Wirral Open Exhibition. My first solo exhibition was held at the Domby Gallery in Southport in Spring 2016 entitled 'Wirral Horizons', which showcased a selection of work done on location around Wirral. This year I had work selected for the Royal Institute of British Artists Annual Exhibition at the Mall Galleries, London.
Between 2011 – 2015 my close association to the history of Port Sunlight led me to create a series of 16 works which re-imagined old street scenes and landscapes of the village's past. These paintings have been turned into prints and postcards and are still on sale in the village today. Throughout this time, I have completed commissions for friends, family, and organisations on Wirral.
Exhibitions
Wirral Open Exhibition, Williamson Art Gallery, Birkenhead, 2018
Royal Institute of British Artists Annual Exhibition – Mall Galleries, March 2017
Solo Exhibition – 'Wirral Horizons' – Domby Gallery North, Southport, May – July 2016
Wirral Open Exhibition, Williamson Art Gallery, Birkenhead, 2014
Wirral Open Exhibition, Williamson Art Gallery, Birkenhead, 2013
Wirral Open Exhibition, Williamson Art Gallery, Birkenhead, 2012
Irby Artist Association Open Exhibition, 2011 – First Prize winner