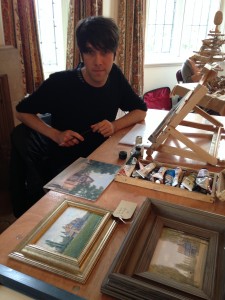 I am a self-taught landscape painter. I paint pictures of places and areas I have a deep attachment to and painting is for me the best way to express my feelings for these places.
I enjoy the craft of my art, patient creation, close observation and subtlety. A knowledge and feel for the history of the landscape is important to me.
Also a commitee member of the Wirral Society Of Arts.
I can be contacted at:
stuartdavidirwin@gmail.com
—————————————————-
Exhibitions
Wirral Open Exhibition, Williamson Art Gallery, Birkenhead, 2018
Royal Institute of British Artists Annual Exhibition – Mall Galleries, March 2017
Solo Exhibition – 'Wirral Horizons' – Domby Gallery North, Southport, May – July 2016
Wirral Open Exhibition, Williamson Art Gallery, Birkenhead, 2014
Wirral Open Exhibition, Williamson Art Gallery, Birkenhead, 2013
Wirral Open Exhibition, Williamson Art Gallery, Birkenhead, 2012
Irby Artist Association Open Exhibition, 2011 – First Prize winner