After a slow start last year,  this post welcomes in the new year and will hopefully be the first of many in 2015. Having spent a few of those quieter and slower Christmas moments sorting through some old sketches at home, and thinking about possible projects for the forthcoming year, I dug out these two watercolor sketches from 2012. The idea was abandoned at the time, but the story behind them is an interesting one.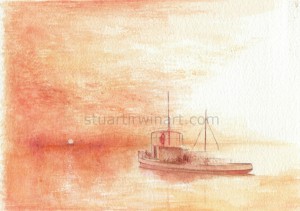 I have been fascinated, and at times haunted, by the tale of the MV Joyita since I read about it in a 'Great Unsolved Mysteries' book about historic enigmas when I was about 8 or 9. The tragedy can lay claim to being the Mary Celeste of the 20th Century, although with added drama and pathos as the story of the main protagonists could be taken from a Hollywood movie.
The bare bones of the story are that in October 1955, a 69-foot motor vessel with 25 people on board disappeared on a routine trip to Fakaofo in the Tokelau Islands in the South Pacific. Long overdue and with no distress message received, an extensive air and sea search was mounted but revealed no trace of the boat. Five weeks later and hundreds of miles off course she was found drifting, waterlogged and listing in the empty ocean. Most dramatically of all, when she was boarded by crew from the Gilbert Islands boat Tuvala, there was not a soul aboard her dead or alive. With no clue left as to what had happened or their whereabouts, none of the 25 people on the vessel were ever found.
Anyone wishing to discover more, I recommend David G. Wright's book 'Joyita – Solving the Mystery' (Auckland University Press, 2002), which gets to the heart of many issues surrounding the case, but leaves some of the mystery in tact. In the meantime, keep you eyes peeled here for progress on the paintings over the course of the year. SI